loner
February 26, 2015
Familiar faces pass me by,
People I know, love and despise.
Some are lucky to be in the "in-crowed",
Others seem as if they just don't care.
As for me, well I'm just a loner passing by.
I put on a mask of confusion to hide my true side;
One that only few get to know.
It's rare for me to let people in…
To know me and who I really am.
As I walk the hall the faces seem to disappear,
And the halls are suddenly empty.
It's just me…I'm the only one…I'm alone yet again.
But I don't mind I'm usually alone.
Just me, myself, and I.
The lights flicker then fade away I'm left in darkness.
It's gone from mid-day to mid-night in a matter of minutes.
No light but the lone moon.
The silence is an eerie sound, one that can make you go crazy.
It's too much to bear,
I open my mouth to scream but no sound comes out.
I stop and think about why I'm trying.
For I'm only a loner hidden behind a mask
I hide my true side only few get to know.
I'm afraid to let people in….afraid of what they will think.
For under the mask there is a ragging storm.
A mass of darkness, thunder, and shadows.
A storm that's taken control,
Waiting to come free…but I don't let it.
I keep it lock inside my head.
The storm never seces never calms for a moment.
Just gets bigger, my bad emotions fuel the storm
My anger, sadness and maybe misery.
With a sudden jolt I'm back to reality
Back to the halls of darkness
So I begin to fade, fade away in to the dark.
And before I'm gone you all hear me say…
I'm just the loner you passed by everyday but never really   saw.
Some said hi, some said hey
And as I begin to fade away
Tears of pain and tears of joy fall from my face.
They shed the mask I'v always worn.
And frees the storm inside my head.
I open my mouth but no longer have much to say
And when I'm gone the things I never said
Lay buried in the deep darkness.
Secret fears and secret lives never to be told.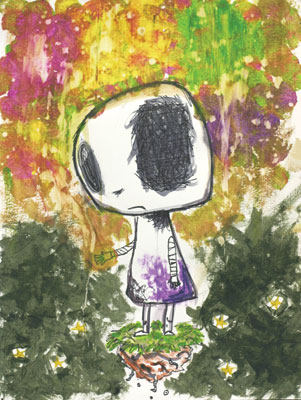 © Ashley W., Port Charlotte, FL