January 1, 2015; 3:17pm
January 4, 2015
even if you're looking for it, you probably won't see it.
it's the leg bounce,
the shaky hand,
pacing routine.
it's the darting eye,
that one crack on the surface:
striking red against a haggard white
tentacles
of a monster much larger than it reveals itself to be;
larger than you could ever imagine.
it's the minusculity of its effects that conceal the monstrous ferocity of its presence.
behind the leg bounce and the shaky hand
is a heart pumping raw neuroticism, an average gallon per minute, sixty per hour, one-thousand-four-hundred-and-forty per day.
behind the alarming red eyes
are faded, hazy, dark blue, sleepless night skies, accented with petrified stars.
they are darting, scrambling for reality
in a world that means no harm, but a brain with an itching trigger finger.
and behind the pacing
there is last resort; an attempt to sweep up broken shards of normalcy
and glue them back together
even though they will never fit quite like they used to.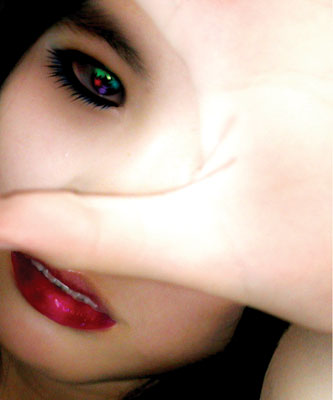 © Victoria W., Arcadia, CA