Fall*
November 24, 2014
Slowly and carefully she made her way across the forest floor, where orange and golden leaves littered the ground as fall had added its own course to the seasons. The leaves glittered and sparkled as they hit the crystal clear lake water and reflected like a mirror of warm gentle colors. Her golden brown hair almost perfectly matched the color of the leaves as they fell. Fall. Fall. Fall. The word stayed on her tung repeating itself in a gentle soothing but somehow...dangerous, voice.
One foot in front of the other as she made her way through the dried ruby red leaves, making a crunching noise as she walked. Finally she reached the edge of the now golden cherry colored lake. Her bright emerald green eyes followed the ripple as it expanded across the lake, it followed the leaf as it floated down to gently kiss the lakes surface, her eyes even followed the golden sun as it sunk beneath the trees far out where her eyes met the horizon.
Fall. Fall. Fall. The most dangerous season of all. When any other pair of eyes saw this sight they'd only marvel at its beauty...not the danger and the terror of it all. This is no horror story, there is no terror in this at all.... Not unless your eyes are emerald green and your hair is the color of golden orange and ruby red leaves in fall.
Fall. Fall. Fall.... The most dangerous season of all.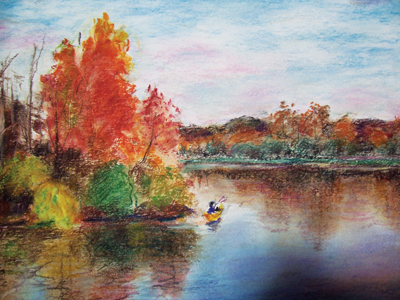 © Xiao H., Naperville, IL