Tortellini Soup
MAG
November 24, 2014
My grandmother makes tortellini soup on
rainy days when it's just us four.
The wind rocks our house, stiffens my neck,
and makes a good case for not getting out of bed.
She used to make it with chicken broth,
when family came together and tipped back
bottles of red wine and used my bed
while I slept on the couch, eyes glistening
from the light of our Christmas tree, the air
bright with the smell of sweet chocolate cookies
and warm mashed potatoes.
Now I am vegetarian, so she cooks the
store-bought, cheese-stuffed pastas in vegetable
broth, fussing in a kitchen hung with
steam, sweat greasing her forehead, playing
in the wrinkles of her skin. The house
becomes too bitter with the aroma of parsley,
an herb she's begun to use frequently, and it clings
to my sweater. I ache for a draft of
cool air to bring the tightness from my body.
She pours the soup evenly across
four large yellow bowls and blankets them
with grated Parmesan cheese. I tell her
I want to go vegan.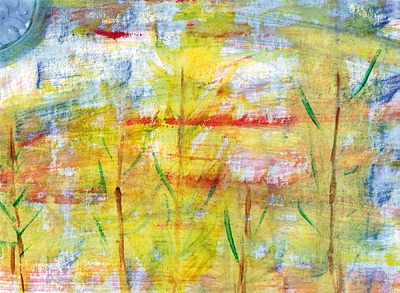 © Raymond G., Phoenix, AZ