It Drips Soundlessly
September 20, 2014
I don't understand why I'm just standing here,
I don't understand why you did that right in front of me.
Your arms are dripping blood now,
The blood pooling at my feet.
I can see the past scars almost white under your blood.
You wince from the pain but yet you cut deeper.
The knife is halfway in you,
You've already cut through your vein and your arm is pouring blood.
The knife now falls from you hand and clatters to the floor,
Your body slowly crumples to the floor,
It's almost as though I'm standing inside a horror movie.
I'm secretly hoping this isn't really happening,
That I'm not just sanding here watching my best friend slowly die right in front of me,
The sirens are now blaring in the distance,
When had someone called the cops?
I no longer can see you breathing and you've already gone comepletely pale,
The sirens are now right beside me and police get out and are putting me in their cruiser,
As I'm walking backwards I see them put you in a body bag and take you to the ambulence,
The last that I see of you is them closing the doors,
And all I learn after that is your dead.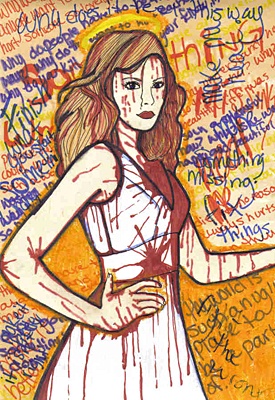 © Sara D., Aiken, SC