Tangerine
August 30, 2014
I bite into a tangerine,
And as it squirts up at my face,
I wince vividly,
In delicious recoil.
You laugh,
Like maple syrup,
Warm- slowly rolling,
Dribbling out my ears.
I can feel their tips turn tomato red,
Under the sizzling sun,
Your fleshy cheeks-
A constellation of freckles,
Dimming and fading,
In a florid sky.
Cicada hum-
Dreary, humid lullaby-
I reach my sticky fingers out,
To the orange peels,
Lying in our clammy laps.
Your baby fat is melting away,
Dripping off the wicker chair,
In saccharine puddles beneath,
Your sherbet skin.
I knead the peels between my palms,
Considering the textures-
Of wrinkled, pruned finger-pads,
Against the taught, slick surface.
I upturn my hands in the broiling sun,
And watch them dry like clothes on the line-
While you grab a swim-towel off a chair,
And wipe them clean and new.
Beaming a gapped-tooth smile,
You grip my wrist with your gentle fists,
Pulling me into the raw green,
Against a melding sunset sky.
Together we chase fluttering spurts of light-
Fireflies drifting through the dusk-
Capturing time itself,
In amber, jelly jars.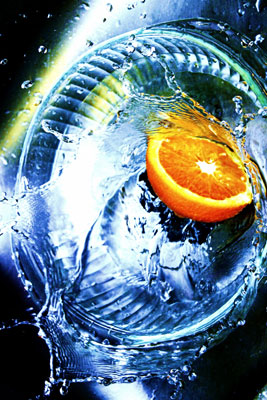 © Bianca A., Damascus, MD