Smudged
August 29, 2014
I would steal your line and say that I washed my hands of you like Crayola-colored half-truths and that would be honest but
The fact also remains that your name is written in very permanent Sharpie on the inside covers of the books I'm reading nowadays.
And that's okay, you said I could keep them awhile,
But neither of us handles the summer heat well.
It drives me to steal your lines, to say untrue things and then try to make them real.
It drives you into the cool dark,
Protective,  defensive,
Nothing to see here, no,
No soul a-fire in firm unbelief.
I was clumsy with you in the fall; I color outside the lines now
Hoping this might work because that's where I found you
And every stroke I draw and every word I write I retrace in black pen that bleeds through the paper
And maybe you're there on the other side
But probably not.
I was probably just another waxy smudge of crayon for you, blended in by now with all the others into a lovely picture of a sunrise or maybe Lake Michigan when it turns that blue you like so much and
I'm in there, barely discernable.
And you are here, in very permanent Sharpie on the inside covers of my body and in the pauses between songs on the radio.
Especially on hot days,
The marker bleeds…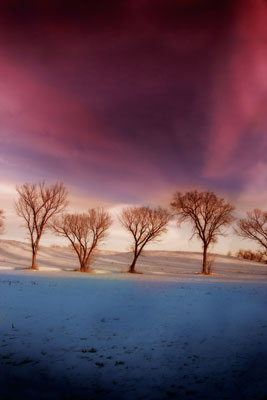 © Elizabeth H., San Bernardino, CA