Three a.m. Phone Calls
MAG
June 28, 2014
I don't know
if you miss our 3 a.m.
phone calls as much as I do,
my insomniac tendencies
always pressing me to badger
you with existential crises
and endless whys.
sometimes I just wanted to hear your voice,
soft and drawn out
like the last note of a
love ballad.

sometimes you called me,
your voice drowning in telephone static,
swallowed by the clumps of water
clinging to your throat,
begging me to stay.

I sometimes miss our silences
when neither of us had much
to say.
I could hear your breathing
through the phone,
slow and steady,
and I tried to coax
my heart to beat to the rhythm of
your lungs.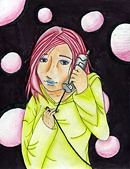 © Emily M., Milford, CT