We Let Her Down...Yet Again
June 9, 2014
I am watching her cry, and a tear find its way through my cheek.
I know what she has gone through, and I shiver at the very thought of it.
I see her begging for help, and I find myself helplessly looking at her.

She is fighting for her life, with the last bit of courage she has mustered,
Recalling last night, her clothes and innocence torn off.
Her body is nothing, but the remains of someone else's leisure.
Her life is but a sad reminder, of how easy it is to break someone.

She lets out a scream, clenching her fists; she opened her mouth as if to speak,
She wanted to live, she wanted to stay back, fall in love, have babies, grow old, and have her own fairytale.
But hope was nowhere to be seen, all I could see was despair and heads hung down in shame.

That night she came to me, her eyes were red, crying out the world's cruelty.
Her face was pale, and hands were cold, she held my face in her fragile hands.
She urged me to do something, she wanted to tell me everything, but words won't come out.
She drifted away, disappointed, as if this was not the first time she was let down.

Leaving behind all the pain, breaking free from such ruthlessness, she left the world for good.
I look at the bed, she once used to lie, but I see someone else there.
Someone very familiar, someone very close, again moaning in pain.
Once step closer and a shiver goes down my spine, there lay on the bed.....ME.
Next can be anyone of us, you, your best friend, your sister, mother....anyone.
I stand there lifeless, for I am dead. Dead with cowardliness, selfishness, helplessness.
We are all dead, because we let her die, we let her down...yet again.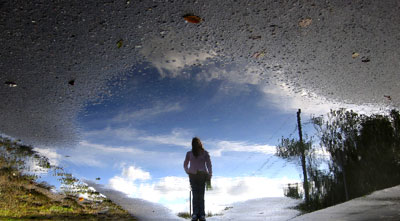 © Daniel H., Oak Bluffs, MA