Beginning
June 5, 2014
innocently and simple with
the remark of a mother
and the jokes of the father
with the light brown hair
knotted to the ends that fall
upon her slender back
in the mirror the ghost of her
reflection stares back at the appearance she owns
the brown sweater was tightly fitted
to the excess fat she
carried upon her bones
as the mother stands behind
with criticizing
words cutting through the
daughter's thighs.
With a dying strength
she picks up her bones
off of the bathroom floor
where she would hide
within herself to escape
those taunting terrors
the pain in her chest
could not be described
or explained to
the professionals
she bled and felt the
beat of her heart
escaping from the inside
of her scarred forearm,
now they gift her with the word
"beautiful"
it crawls underneath her skin
the word, the thought of beauty has been
distorted into
small numbers on a heavy scale,
rib cages, and hip bones.
The body was a canvas and she
bruised it with self hatred.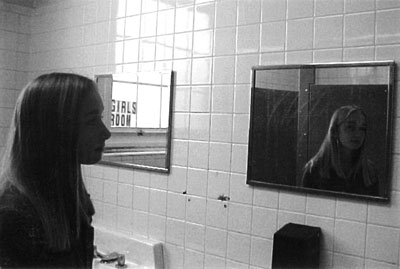 © Jill H., Pompton Plains, NJ