past family portrait
MAG
May 29, 2014
A cousin
her bangs fell inches above
her one-year-old eyebrows
her wide brown eyes spoke with giggles
and gurgles
with a mouth open smiling for the camera.
Two brothers,
five and three when the picture
is taken,
sitting together in front of the decorated Christmas tree
heads touching
knitted together with brotherly love
blond strands of hair interlock with
each other.
The older brother
by four years
scruffy dark brown strokes of hair
head high on his shoulders
stitches in his head
still present
covered slightly with the time that
has passed by

We always went to walmart for our
family photos.
The dark dull blue backdrop hung behind us.
My forced smile popped like a pin taking hits on balloons
a curl of light brown hair
swooped over my eyebrow.
Behind me, He stands firm
the one who I would squirm for screaming
at the top of my empowering
lungs
"Daddy's Home"
He wore the dark blue fleece
which still hangs in the closet where mom's clothing has disappeared.
The grin of a brother
is off in a distance where my eyes do not wander
she is beautiful in her simple little ways
her naive fingers wrap around mother's
with security
dimples float around her cheeks
the birth defect hangs like a hammock
on her eyelid
they told her she had a dent in her forehead
brown hair
parted straight down the middle
cut short to her shoulders.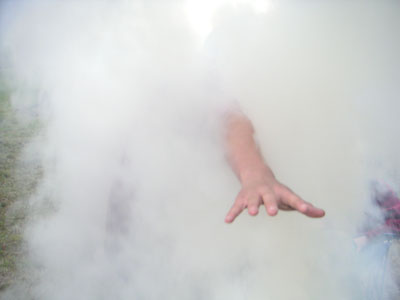 © Garrett M., Port Angeles, WA