brother
June 1, 2014
He's got stubble on his face
that the razor wont erase
and there are brown marbles
for his eyes, they roll around sometimes
The dribble of a basketball
would pound from his hands
wiping the sweat from his forehead
and make another basket
dodging the caravan because
dad would kick his behind
the court was our drive way
born of skateboards and skipping ropes
with roller blades and bicycles.
I've asked teachers what
you were like in school
they say he was like you
quiet, reserved
was this all they ever knew?
I remember trying to keep up
his step was twice the speed of mine
June fifth
this day was opened to your charming smiles
with rounded cheeks
strong knuckles though his hands shake
not many may come to know his heart of gold
this is when I call your name
the screens may drive you in
with new controllers and enchanting echos
but don't run away and hide
from the demons I've planted in skin
some days his eyes are gone
just like mine and I wonder why.
Brother,
we're here to stay.
This day awaits your slaying smile to
break away the dark from the light
brother, forever connected from the heart.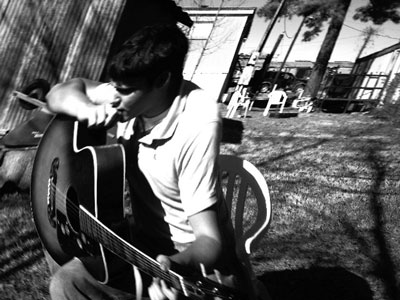 © John B., Shreveport, LA