Come and see what happens
May 9, 2014
I stood in front of my home at the end of my day, and then I heard people, making fun of my cloths and life style, again. But I have heard the same comments everyday all my life. I looked up at my floor level and saw that my cat needed out again, and then I saw something on the top of the building.

I looked up, and I saw a girl like me on the edge of the building, looking down at the street, then she looked at me.

Before I knew it, I was running full sprit into the building and up the main stairs case. And in three minutes I had made to the top floor. When I opened the door to the roof, she was still standing her back to me and still looking back at the ground.

I walked over to her slowly, when I reached her. She most of heard me coming to her. Because she looked back her at me.

I saw the pain in her eyes, and I saw the brushes on her body. Slowly I held my hand out to her, and she looked at me then at my hand. She slowly looked at the edge again then back at me.

She reached out to grab my hand, but her foot slipped and she started to fall from the building. I grabbed her hand before she fail beyond my reach.

I grabbed her arm with my other hand. Slowly I pulled her up and pulled her into my arms. She cried for hours, but the time did not mean anything to me.

Slowly I realized that she was like me. Her face was white with black eye liner and her hair was black as night.

But I didn't mind, she looked at me and she knew and I knew that, we had no differences with each other.

She needed a trusting bother, guarding and a true friend to be with her.

When she looked at me the first time, she looked at me as if a Dark Angle had come to aid her.
And in a way I thought and others thought that I was, "A fallen Darken Angle"
She looked at me and I looked back at her

I whispered into her ear, "Tho shall not, harm Thy sister again. If tho harm thy, tho shall indoor thy wrath."
She smiled at me and I smiled back. Both of us lend closer to each, until our lips touched
And life continued and she and I lived together.

I lead her to my Apartment, and too where, our new life together and it just begin.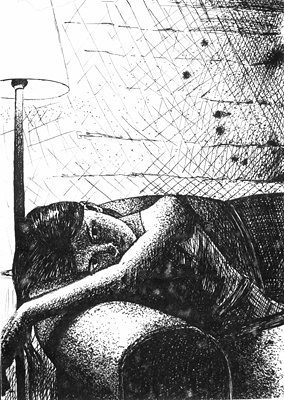 © Elisabeth R., Elmont, NY