Cinderella Angel
March 6, 2014
Have you ever held a dead baby in your arms?
you've probably held a living baby.
Imagine that bouncing baby girl with the pretty pink cheeks
blue, cold, and completely still.
I didn't know that she didn't make it.
I had no warning.
But I was the only kid brave enough to hold her.
She was born too early
and like Cinderella's forgotten glass slipper
she was small and fragile.
She had never opened her eyes,
but she had dark hair,
so she looked more like my sister than me.
At the stroke of twelve
hours that had passed
you left our world.
Where are you now little Cinderella?
How far away did your angel wing carriage take you?
A tear falls on her cheek,
and I realize I must be crying.
Instead of mourning what we lost
we're morning what was never found.

I stood outside her grave with my family
a week before Christmas
dressed in black; she had to be buried.
We couldn't afford a headstone;
all she had was a small grave marker,
our Cinderella angel.
She left our world to quickly;
we never knew her name.
Now there's no way to find her.

My fourth grade teacher
told me it helped to write letters to those we lost.
But I never knew her,
so what would I write?
This is the closest thing to a letter I've written for her;
It took me 5 years to know what to say.

Cinderella, your fairy godmother wants to meet you.
So do your not-so-evil sisters.
Cinderella angel,
let's stop the clock.
11:59
It will never strike twelve.
Without time,
maybe we could have found out who you really were.

But she's left our world,
and she's in my hands
wrapped in this tiny pink blanket.
Were they trying to keep her warm?
She couldn't cry for herself,
so we cried for her.
Hello Cinderella.
Goodbye angel.
I wish we could have known you longer.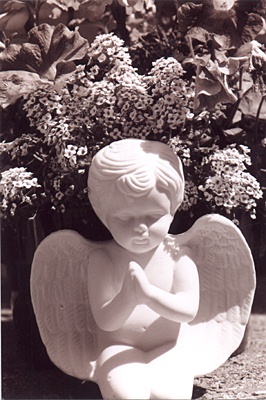 © Laurie T.,Hopkinton, MA