Darkness
January 7, 2014
I didn't think that leaving you
Would have affected me so much.

It had all ended in a bang,
Glass on the carpet
From the glass you threw
Over that time that I went over
The budget by ten dollars.

Your eyes has been so bright
And I had still thought
That they were beautiful
Even though they were
Stained with a darkness,
The darkness that had been with
You since childhood.

That darkness had followed you
Around and exposed itself briefly
Around friends and family.
It would punch holes in walls,
Kick over chairs,
Shove me against doors,
And scream in my face.

Every time the darkness was around,
I felt like my heart would burst,
That the tears would melt my eyes,
And worse,
That maybe your hand would find
My throat
And try to choke the right words
Out.

I left on a sunny day but
That didn't stop me from
Crying on the subway
Or fear for my life when I was
Within five miles of your house.

I saw your face on every
Person that I talked to.
I saw your face in traffic signals,
The moon when it was just
A sliver,
And in the inky black
Of an unlit alley.

I feel the fear whenever
I take a step outside.
I feel the fear when I know
That someone is behind me.
It's because I was given a curse
When I walked out that door.
I can now see the darkness in
Every single person I meet
And I will never be able to shake
The feeling that you're just around the
Corner but this time
With a gun.

You said that if I ever
Stopped loving you that
You'd kill me with a slight smile
As your fingers were entwined with
My own.

I haven't stopped loving
You
But I know that you will come.
One day.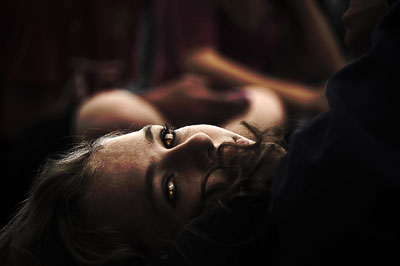 © Calvin C., Salt Lake City, UT