Lifeblood
October 29, 2013
The lifeblood of my body

cascades over the brim of my heart

a glowing fruit, bitten, is tart

my eyes unbelieving of their seeing.



An egg, fragil thing, catches

the lifeblood of my heart

instead of your capipable hands

here my lovely sorrow stands.



A dark sheene, encompasses my egg

the lifeblood of my soul

turning dark with unpresidented fury

your raised leg

poised over my heart bowl

crushes my love into misery.



From the broken shards, falls

a single seed

to plant itself in cold flesh

pehnoix bursts, the shattered skins

of my heart, to drink

my lifeblood.

It rises, screeching all the misery,

heartbreak,

away.



Off into the sunset, fire blended

into fire

fly my burdens.



I am left light

hatched from my egg

soft pink flesh, and

knoweldge of love

as fresh lifeblood surges

to make me whole again.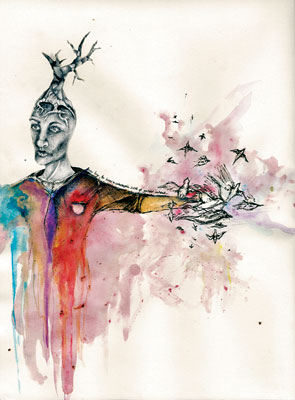 © Alice B., Sarasota, FL