The Raven
October 6, 2013
A fractured leg,
A broken heart,
A shattered mind
Its every part.

The raven lay there,
Hopelessly.
Fallen from its
Nesting tree.

A long hour passed.
People walked by.
Some people frowned and
Bid it die.

Yet one stooped down
And touched the bird.
She brought it home,
Without a word.

The bird was scared.
He couldn't see
How far he was
From his home tree.

She lay him gentle,
As was able,
Onto a cushioned
Coffee table.

Into her house,
She called a vet.
He came..
He saw...
And spoke as if he'd lost a bet.

"I'm sorry, miss,
But this creature
Is hurt too deep,
Of this I'm sure.

"The only option
For his life,
Is that you put it
out of strife."

The girl said sadly,
But with sight,
"I do not like it,
But you're right."

The bird was frightened,
He felt pain.
He turned his head;
Through window pane

He saw a sight
Of homeliness
His tree,
And near the top,
His nest.

As best a bird can smile,
He did.
And then, from life,
The bird then slid.

With fractured leg,
With lonely heart,
With placid mind,

As needle punctured
Feathered
Flesh.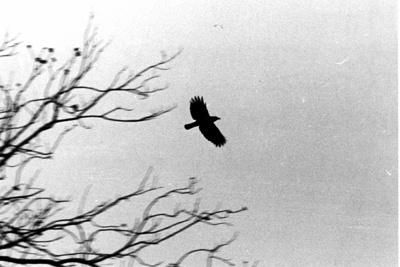 © Jacqueline T., Flowermound, TX