Interactions
September 23, 2013
It wasn't too long ago that I talked to you every day. We were inseparable. I would let you hold me tightly, and you would play with my hair and we would talk about everything. You would listen to me as I jabbered on; never interrupting, just silently observing. We had this unbreakable bond that is rarely heard of. So riddle me this; what happened to us?
I ask myself this as I slip through the hall like a whisper in the wind, because I spot you. You look like you are trying to melt into the wall; you are pressed up next to it. You are surrounded by friends; crushed by affection. I guess that is one thing I will never get used to seeing; you, socializing with someone other than me. I interact with my friends, and try to ignore your looming figure. I try to avoid the pain, remorse, and sick jealousy bubbling up inside of my heart like a geyser.
Somewhere in the distant future, I freeze. I feel your eyes on me; and my love, they burn. I keep my eyes focused on the ground; keep my cheek turned to you. A single shudder rises up my spine. I turn and meet your eyes for a single, fleeting second.
I quickly flee past you, darting into the shadows like a leaping fawn; back to the place you found me so long ago. So in all my sorrow, I cross my fingers and pray that you will find me once again.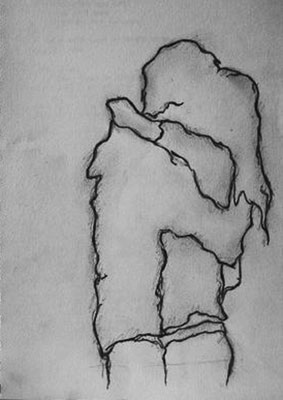 © Nicole B., Newcastle, WA