12:22 AM
September 9, 2013
Sliding through crowded parties
seems fun before night falls,
And fast cars seem fun
before death calls.
Love is left over from
all the madness explosions.
Love is the most rare
byproduct of high concentrations.

I won't let ignorant eyes
or creamy thighs disrupt me.
I won't let dark skies
or moral crimes disgust me.
I won't let the unfortunate ones
tread on me.
I won't let the unnatural things
tread on me.

It's easy to slide out of consciousness
when reality is exhausting.
It's relaxing to jump when
the fire burns your bridge.
No one believes you are
a loving man, right?
No one knows you are an
angel stuck in flight, right?
You and him are trapped tonight
and no one knows you might
explode into passionate fury
and plant seeds of fright.
And reaping that harvest is filled with pain.
"We'll never do that again", you said.

But it looks like you've gone
and lost your heads.
It looks like you've forgotten
to use your heads.
It looks like you've made tonight's bed.
But the morning comes soon
and the sun replaces moon.
And the devices of sin
and vices are uncovered.
We pay prices of our pseudo leisure.
Of disappointing our leaders.
Of slaying our lovers,
of using each other.

And sliding through parties
seems fun tonight.
Let's take a fast car
under the city lights.
Love will always last.
It will never run out
and we could never run past.
Love will always last.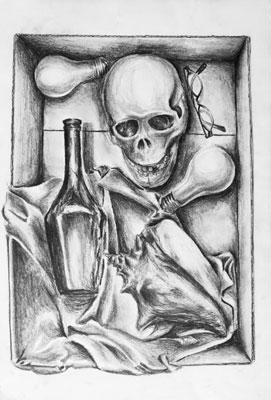 © Karen S., Norwalk, CT