Morning, Noon, and Night
August 18, 2013
You are...
The tiny dew drops
Timidly place on the crisp emerald blades of grass,
Miniature diamonds

Sparkling,Shining,
Beckoning the sun to rise
And bring its warmth to this
Dark, desolate world.

You are...
The minute strands of a spider's web,
Delicate yet firm,
Painstakingly woven together over time;

A testament of dedication and strength,
Glistening in the thin shaft
Of golden afternoon light
Splayed between the trees.

You are...
The last dying rays of the sun,
Before it dips majestically below
The thin line of the horizon,

Orange, Red, Gold,
Setting the sky on fire,
The final rolling notes of the
Day's continuous song,

Resounding off the earth
Before finally fading
Into silent darkness,
Until the next day should come.

You are...
The first flake of
Purist snow,
Falling in the dead of night,

Intricate patterns weaving their way
Throughout,
Unique to you,
Unique to only you.

You are...
My morning, noon, and night,
Sunrise and sunset,
Dawn to dusk.

You are...
All that is.
All that was.
All that will be.

You are anything.

You are everything.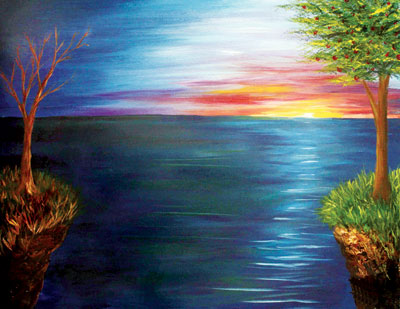 © Ariel G., Moses Lake, WA