9306 Peony Lane North
August 20, 2013
The house is still there, waiting and flashing into my peripherals.
The marks may be painted over and the color scrubbed raw from the cement
But they are still in me and my bones
And refuse to dissolve and leave me be. The winds
That once danced and played in the pond
With pure joy now blow through me,
Hollow and loud. The souls that moved between thresholds
And blades of grass tried to hold on, much too long
For their childish minds and impossible dreams.
The cherry seeds that we spit
From our toothless blue-raspberry stained mouths still sit
In the once sweet smelling dirt and clay. We
Wished they would sprout and grow cherry trees all over in the back yard
That we could climb on like monkeys. The board
That closed the gap between the forbidden
And the already traveled is still soaked with fishy water
That flows from the littlest ribbon to the largest trunks of trees.
The octopus tree that stretched it limbs across a tiny island
Separated by two ponds still hugs their banks
And waits for us to venture over
In bare feet or dulled ice skates
To climb around
In its stories and dangle in its memories
Even though the barbed wire still has dried blood on it.
The peony bush, only fitting for peony lanes,
Is still weighed down by delicious pink buds
And petals that drip with sticky perfume
And attract bugs that Jack used to chase and hide from.
The rafters still hold old things
And older times
When they were used and only appear
As decorative chandeliers with small tires, crumbling pots, and peeling wood.
The guest room door still doesn't shut
No matter how hard it is slammed or how mad it is at the mom that wouldn't let it go outside
But propped open enough for a string to fit between and play telephone.
The tulip bulb in the garden still waits to be picked
By the sun to grow and stretch to reach its creator
And shiver and shake it's petals in the breeze.
The apple tree is still gangly and over-fruited
With slick apples that thank the grown minds
That have left them alone to have their sour flesh and meat be picked at by ants and worms.
The hose still coils up next to the house for warmth
Until dry lips drink its contents on a hot day and it makes those lips taste like plastic and grass
Until it is replaced by burnt hotdogs and icy milk.
But what isn't there,
At that house,
Is the broken family that so desperately wanted to change
And be changed
That they left a daughter
Whose heart
Still lives in its cracks.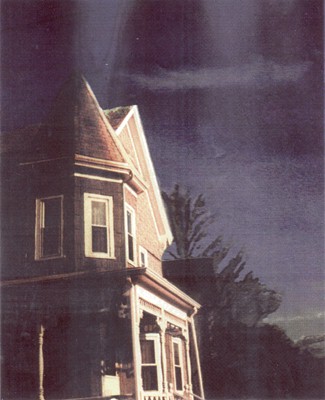 © Elyse G., Wilmington, MA