"S2S"
July 25, 2013
Everything is black.
I'm awake I think, but I can't see what surrounds me.
Was I wearing a tie?
I grab the knot around my neck and give it a tug.
I allow it to fall to the ground,
At least I think it's the ground.
My barefeet continue the sensual conversation
With this hidden, unmoving floor sending my body a shivering proclamation.
My back is shot full of searing pain.
I reach back to try and calm the raging
Storm of pain in my spine when my hands brush a beacon of torture.
With every touch and twist of my back
I can feel my flesh separate.
What is this?
A single light overhead springs to life blinding me
So that I may not see still what lies ahead of me.
Patiently I wait til I may see what lies in front.
I know this place, though even now the name of
Oval Office still seems strange.
What are these words?
They're written everywhere.
These rules we call laws are written all over these walls
Melded together indistinguishable from the next,
But only because of the color used.
If only it wasn't written in color maybe then these laws would make sense.
It should be as clear as black and white,
But even then the black isn't as clear as the white.
Strange.
I've barely moved, yet I didn't notice this rope on the floor.
Where is my tie?
My body no longer responds to my will.
I walk over to the desk and leap to the top.
I secure the rope.
One last glance at the these unclear color written laws scrawled
All over these walls unrelatable to anyone.
I spot a mirror, in it I can see my back.
"S2S" has been carved in my flesh
As if I were a human text message.
I step forward off the desk and feel the rope tighten.
Right before I go it becomes clear what it means.
Slaves to society.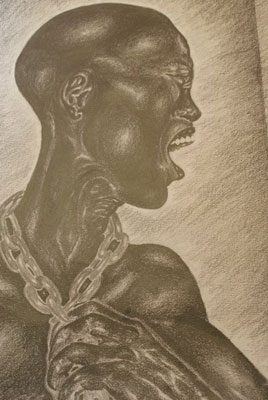 © Catherine M., Bronx, NY