Once Upon A Time
July 22, 2013
I turn the page of whispering whim,
Dust coating my fingertips.
The words are elegant, promising,
Filled with same magic felt so long ago.

I travel to my hidden home,
My solace in this dark, dank world,
My oasis in this barren desert of a life,
My only escape from reality.

Here, the possibilities are limitless.
I
Am

Limitless.

In my fantasy, I am free to roam.
I am free to be, or not to be.
A wandering wizard, a noble prince,
A fearless heroine, or a gallant knight.

With each word,
A great new world is spun.
With each sentence,
A battle won, another day done.

The letter flow and flit,
Wrapping themselves into whimsical words
And elegant script,
Weaving a story greater than I could imagine.

And I, right in the middle of it.
What a joy it is,
What pleasure,
To escape reality if only for a while.

Here in my hidden home,
No more problems, no more death.
But I cannot hide for long,
All too soon, I am found.

When ripped away from my world,
Without rhyme or reason
And thrust into a reality so bleak,
My escape attempt seems so weak.

But until the day I shall return,
My world will await me,
So much still to learn.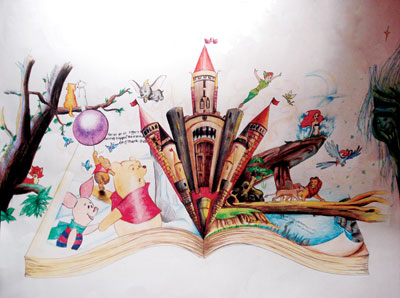 © Shirley L., Chino Hills, CA