Moment
July 17, 2013
beneath towers of stone
and canyons of glass,
the train rumbles down
to pierce the darkness
under the earth.

all shapes of people
sitting apart together-
like an awkward jigsaw
with spaces left between
its pieces.

the she sits.
there i sit.
black hair is piled up
behind her head, with
cinnamon skin,
and lips so perfect
they are not luscious
but lewd.

so different than my
unkempt lawn of
blonde weeds.
my skinny body
and oversized green
summer dress.
a dandelion
in the dark.

i see that she is
staring at me.
our eyes meet
and they jump aside.
like they were family
estranged long ago.

in the window a
colorful scene
floating, no flying
through the dark.
in this wondrous mirror
our eyes meet once again.

the lewd lips curve.
and i smile back.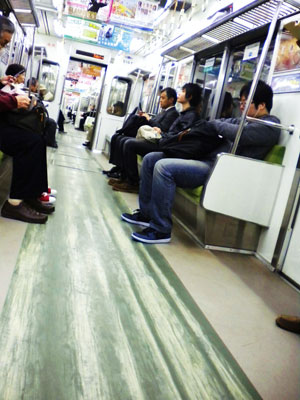 © Abigail W., Kamuela, HI