All This Life Is.
July 7, 2013
Darkness
Is all this life is!
Mothers who can't mother because they are high
Or are holding to tight to the hand of a guy
Who continually puts his hands on her?
Bruises and bumps
To show he has a handle
On her
Beats her in front of her kids
Does she not realize why he can't see his?
But when he tries to leave she begs
And she begs for him to stay.
She believes that he loves her
Even though he degrades her more and more each day
She idolizes this man who wouldn't ever stand
Up to fight for her
Would never step up to be a father
She is in love with the sick equivalent
Of a vast and shallow being
Who mimics the art of living
She is in love with the handprints on her arms
The only imprint he has had in her life
That he can justify through his occasional charm
She is in love with a self-loathing beast
Who couldn't love her the least
Yet, she drags her kids into her mess
Thinks she is doing them the best
Because this man has a house,
That will never be a home
And she stays because she is afraid
To ever be alone
Three kids to three different fathers
Yet all they will ever be to her is a bother
Because she doesn't pay them any attention
As they mention
All of their hopes and dreams
She just sucks in and blows them away
With a sickening ease
Her children are ghosts and dead dreams
Simple reminders of all the men she has given it all too
A simple reminder that she is wasting away too soon
So she takes the abuse
Tough love she calls it
But what is love if you have to endure it?

Pain
Is all this life is!
Ask the mom who is ruining her brain
Through every sip
Every drink and drop
Of alcohol she just can't stop
There's a pile of bills that can't be afforded
Because of all the bottles she has hoarded
Here and there she just doesn't care
Because she has her escape
Her home away from home while everyone else is in hell
Talking to the shell
Of a mother they once had
And they're glad when the slurring ends
As they play pretend that it wont happen again
But it never stops
The yelling and screaming
And accusations of scheming
Why do you do this? How can you join against me?
Meanwhile her kids sit and plea
That one day their mom wont fill her empty
With so much fluid
Because she is floating away their childhood
As their lives get misunderstood
For some happy family
One that is so pleasing to the eye
If only they knew about the children who wanted to die.

Hurt
Is all this life is!
As a single mom works and works
To keep 4 kids lives perfect
Tries and tries to give them all that she has
But they're never glad
Never appreciative of the things they have
Only focus on everything they want
And they taunt and taunt
Her
Until she is nothing more than a shell
Trying to operate in a hell
That she can barely bear to live through
Never enough money for all their desires
But she tries and tries
The bar just gets set higher and higher
The more she climbs her way to their wants
The farther away she is from humanity
Her kids hold above her, her own sanity
But they don't care
They cant stand never having her there
And still getting nothing in return
They don't know how hard she works
They don't care
Every night they throw in her face
"It would all be fine if daddy was here"
Four years to the day
Is when her husband passed away
the hardest day in her life
and they throw it in her face
as she tries and tries
of course as always it goes unrecognized

Shame
Is all this life is
To the little 9th grade bullies
Thinking life is just a game
As they torment, torture, rewind and replay
The harassment of one girl
One against the world
They call her fat, ugly, and label her a w****
And bully more and more
Until the edge is her bed
Where she has decided to lay
Contemplating all the ways she could slay
Away her life
She is tired of people, and of school
How could they be so cruel
As to say
Life would be better if she just ended it today
They convince her that life isn't her thing
Tell her no one wants her anymore
Her life is a pathetic attempt to sing
In the opera house where she squeaks
Like the little disgusting rat that she is
What the hell is wrong with these kids?
They think that we have unlimited lives
But they cost a girl hers
On Sunday she'll be riding in a hearse
To a funeral that was booked too soon
They thought maybe at worst, she would end up a loon
But instead she cut and she cut
Trying to end her life and when it turned out that a knife,
Wasn't enough she downed some stuff
More medicine than any body could handle
And slowly watched the world melt from her
Like the slow melting of a candle
Away she went
Leaving the world with just a scent
Of humility
Too bad they couldn't see that when she was alive
And could breathe

Unfair
Is all this life is.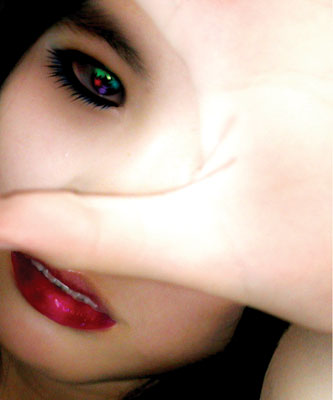 © Victoria W., Arcadia, CA