Abrupt. Sad. Pitiful. Beautiful.
May 21, 2013
Your hand
the simplest thing that I hardly even noticed before.
Broken brand
snapping up to greet my eyes again.
Our fingers
touch and I feel blooming flowers spread through out my blood.
That feeling lingers
leaving me with nothing but a tingling feeling left behind.
Your eyes
meet mine again as we float on air and stare.
My mind flies
quickly losing track of all memories except this moment that just passed.
I need to know
do you look at me and feel butterflies soaring through you.
Or do you so
often graze my face and feel nothing but a friend or confident.
Your gun
is better than mine and it always will be.
It's not so fun
being shot down without meaning to be or hurt without purpose.
Straight ahead
i look and search your eyes for something special, warning me to stop.
I lie in bed
wide awake at midnight holding back tears from wanting to know the truth behind our matches.
But now
all i have is that memory of that fading moment when our hands touched.
put me down
just so i can remember how big your fingers were compared to mine: petite.
That memory
jogs my mind like an ever ticking clock that doesn't stop.
Stuck in this reverie
wondering if this is ever going to flutter into the past and stop.
Abrupt.
Sad.
Pitiful.
But Beautiful.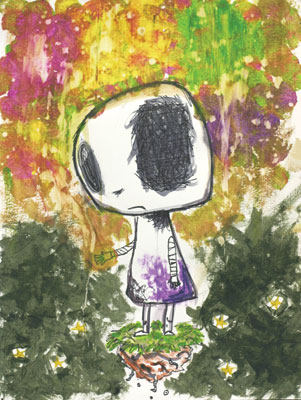 © Ashley W., Port Charlotte, FL