Butterfly Heart
May 4, 2013
There was a flitter in my heart,
My bones felt light.
My clothes fell off my body
And as I looked down upon my skin,
I saw it had turned the lightest shade of blue,
So lovely on my arms, my legs, shoulders and toes.
Twisting black patterns swirled onto the blue,
Patterns perfectly symmetrical from limb to limb.
As I looked upon my reflection, my eyes turned the deepest shade of violet,
And a slender antennae grew from my head.
Wings grew from my shoulders,
Wings as soft as velvet,
And I flew.
From the flowers I soared,
Drinking upon their sweet nectar.
Lighter than the mist that hugs the ground on an early morning,
What am I?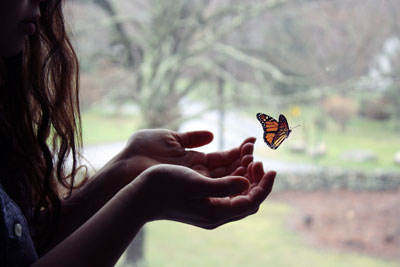 © Sandy H., Woodbridge, CT