New Machine (Redux)
May 2, 2013
I'm the new machine. The new top-of-the-line product.
Factory-issue with batteries included.
A system of synapses creating a creative outlook,
Programmed for progress and designed for diversity.
A plantation of constraints limited only to the outer reaches of a well-wired cortex.
I'm an out-of-the-box introvert, met with low income and high standards.
I'm a high point for the low-lives. Another low tide on the highrise.
I'm a super-sized small fry.
A whitewashed visionary who's ahead of my time, but behind on the swing of things.
A keepsake throw-away. A jury-rigged perfectionist.
A completely off-the-charts, on-the-ball immovable object and I can go a kilometer in a microsecond.

I'm a shot-in-the-dark peacekeeper, hotwired for good times.
A nurturing, supportive, caring, altruistic anarchist.
The kind of guy who'll shake your hand and snap your neck.
A ten-speed easy goer. A mid-range long shot.
I'm a buy-one-get-one-free package, coming in two different shades of emotional trauma.
What'll you have? Red with jealousy? Green with deceit?
How about Blue with five different tinges of systematic displeasure?
Act now, and get a free bonus color: Yellow with mellow neuroticism.
I'm a rainmakin' thundercloud with a dead bite and a deep bark.
A soft-bellied slam dunk. A red-necked blue collar.
I take easy tries. I breathe easy sighs. I have easy quirks. I write champion work.

I'm a forward-thinking, backhand slap of reality, electrically charged and bio-degradable.
An internally paternal, rough-edged, smooth-talking, silver tongued devil with a heart of gold.
I'm off drugs, off booze, off weed, off speed, off crack, off jack, and on the move.
'Cause I get power by the hour and energy though synergy.
You can't hold me up. You can't tie me down.
'Cause I'm restless, and I'm breathless. I'm a dominant species in an inferior phylum.
A semi-automatic, fully-primed neutron time bomb.
A realistic daydreamer. A symbiotic single-cell.
I'm a consistency-driven, grab-bag, hodge-podge of insanity.
So I'm economic, I'm ergonomic, and from time to time I'm agronomic.

Behind the wheel, ahead of the game, knocking the door, hitting the sack, sailing the sea, riding the tide, working the quota.
I'm down to earth, down-range, down-home, and up to speed.
I'm a zero-tolerance, number one, slapshot, deadeye marine of my art.
You'll never find a keener eye to peruse the purpose of poetry than mine.
I craft with imposing, integral, ingenious, internal, inoperable, inescapable, inerasable, inexplicit, descending, unending, unrelenting rhymes and rhythm.
I roll with the stones and I sift with the wind. I'm taking a spin on the simpler side.
I'm a bullet-proof, reinforced, Kevlar, iron-fist, steel-willed, hard-to-kill, fully-filled hyper-thrill.
I grow with the Earth and I learn with the time.
I write contrite, and vanguard my safeguards.
I'm keeping it real with my commission.
And I'm seizing the day. End transmission.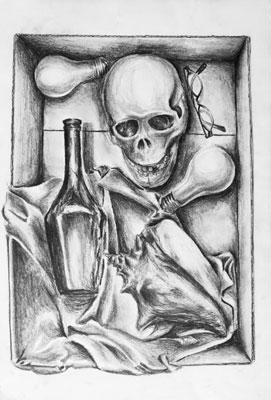 © Karen S., Norwalk, CT