Waking
April 24, 2013
Is the sun still a-shine?
Will you love me in the morning?
Admiration is divine
Our hair is a-flow
I know you have to go
But when will you go?
Will you love me in the morning?
Will you kiss me in the rain?
Or will you leave as soon as the sound of thunder strikes, cowardly running away?
But
The glow of your face will a-light any show
And the silk of your voice overtakes the screams in my mind
The pleasure pours, yielding the traffic of your soul's call
The winds of your breathe sweep the floor clean
Questions are scratched on the walls of our world
Words are carved and crying- for the light of a true direction
Will you still love me?
Will you love me when you see the shrieks of despair echoing through my eyes?
Will you leave me when you hear the dirt of the pain in my heart?
The strength of your arms pushes me upward
Shielding monsters from my sight
All that is seen are bloodshot eyes with numb and invisible teardrops
Your fingers lay sweetly determined in mine
Our figures lay a-glow
But
Will you love me in the morning?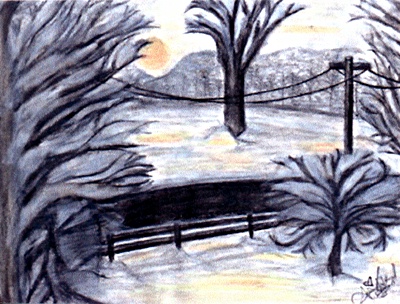 © Amanda W., Nanty Glo, PA