Do Not Disturb
April 22, 2013
No, I do not want to talk to you
No, Mother, I can't answer the phone.
No, I do not want to say hello to Uncle
Please leave me to my devices.

No, dog, I do not want to play with you.
No, little sister, I will not play dollhouse with you.
Please leave me to my thoughts.

Surely you understand, little sister
What it's like to be in your own fantastic world?
I don't see your plastic unicorns
I see huffing unicorns galloping across valleys
With a rainbow sun floating above
And syrupy air thick enough to lick

I don't greet you, Uncle
Because fairies are greeting me with gleeful giggles
I don't hear the phone, Mother
The dragon's roar is too loud, you see

The dragon's puffs hot breaths into my face, too
My eyes water
The breaths fill my nostrils with the pungent aroma of tomato sauce 
and sizzling cheeses and freshly baked crusts...
My mouth waters...

Oh.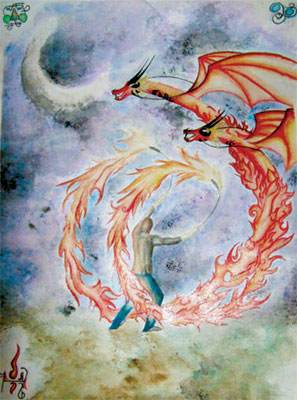 © Garrett P., Reno, NV