What Is Death?
April 9, 2013
The pale lips are smashed together in a fake smile, the teeth not wanting to show in the little pod of the mouth, hiding like scared peas. It's frightening.
The eyes crinkled just right so that it looks so plastered on that you can tell it is fake, the folds overlapping again and again in an unnatural way. I blink.
The cheeks covered in makeup, splashed on in spots, smoothed over in others, splatter painted to look realistic. It doesn't work.
The fingers resting oh so stiff on the stomach raised a bit so that they are hovering about the
skin, like he doesn't want to touch the dead fabric. I wouldn't.
The suit, so neatly pressed that not a wrinkle shows, except for on the collar where nobody notices. But I do.
The silk lining of the box he is resting in is shiny and overly polished, like a cherry wood dining room table with an overload of Pledge. It hurts my eyes.
The bouquet of flowers is a bundle of Death's heavy perfume disguised as a bunch of roses and daisies. The smell is disgusting.
The picture frames surrounding the box are shined like pairs of leather shoes, imbedded with gems and memories that are long past. It makes me sad.
The stuffed animals in the corner gaze deadly at the group, mold and dust sapping the life out of their beady eyes. They make me shiver.
The chair I sit on is hard and stiff, the cushion starched to the breaking point, the crackly material hardly comfortable. I squirm.
The vent above me blows a gale of cold air and underlying currents, which whips up my hair in a flurry of brown. I pat my head.
The people around me clutch tissues in bony hands, the wadded up paper soaked through with tears and makeup. It looks gross.
So as I observe every detail of this morbid place, I close my eyes and breath deep. Mistake. The air is ripe with anger and sadness, misery and frustration. Musky lady perfume, sharp man perfume. My hands clench, unclench, furl, unfurl. My throat closes up then swallows that lump of matter lodged in my my esophagus. What is death? What is Heaven? What is God and Jesus and church? What is all of that if it ends up like this? Like a cancerous tumour, like a lump of mutated cells, like a painful death? It is forgiveness and freedom and newness.

With that I open my eyes again and cry.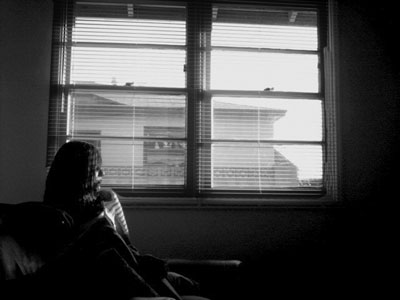 © Roxana R., Tustin, CA