Burglar of Life
April 5, 2013
Time.
For the average individual,
an extensive yet still inadequate
2 billion seconds of existence.
An overpowering phenomenon
full of uncertainty, interrogation,
and hope.

Life
and then death.
The tedious routine
marked by bursts of happiness
continues on for what seems like an eternity;
then comes a rendezvous with Death.

It is too late to reconcile;
time has already snuck stealthily away,
never to be seen or heard of again.

Time enters undetected,
dressed in a concealing cloak,
and returns demanding its personal belongings...
our lives.
So generous, yet so avaricious.
An eternal, immortal, creature that will
eventually retract
the life it once helped create.


We continue to fight this unwinnable
and futile battle,
with desperate hopes that we will,
over the course of time,
become somebodys.
With desperate hopes that we will not leave this earth
without a legacy, or something by which to remember ourselves by.
We want to be; and not to merely exist.

Because of this intense desire to depart
with a sense of fulfillment,
we surrender ourselves to time;
our aspirations,
our emotions,
our identities...
our souls.

Time taunts us,
hides us,
reveals us,
hinders us,
and outlasts us.
It sways to the steady beat of
an untarnished, golden pendulum,
methodically and gracefully.

It brings with it hope,
joy,
pain,
and fear.
At times, we disregard it,
and leave it to continue on unnoticed.
At others, we observe it incessantly,
in hopes of a variation to our monotonous lives.

The sly thief of life will forever live on;
it is an omnipotent, ruthless yet beloved being.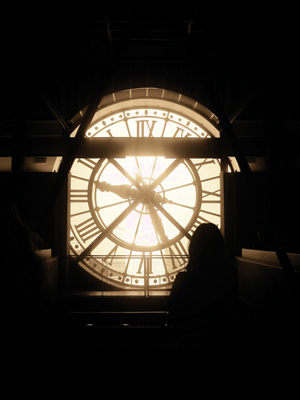 © Treza R., Kalispell, MT