The Swing
March 30, 2013
I have a swing in my backyard,
Made out of old oak wood and rusted chains.
When I was little,
I would get on that swing everyday,
For hours on end.
The swing was my friend,
Bringing me to the clouds and letting me touch the treetops.
I would sing with the birds,
And fly with the bees.
I though I would never leave,
Just stay on that swing.

Until one day,
The swing came down,
Crashing in a pile of wooden planks,
And a thin piece of plastic.
I felt like running away,
Leaving the world and never coming back.
My only friend was gone,
Forever.

My dad tried to make me a new one,
But It would never be the same.
It didn't have the same feel,
The same touch to my naked skin.
It wouldn't bring me high enough to touch the clouds,
Or fly along side the birds.
It didn't satisfy the beating in my heart,
The ache in my chest to soar.

It was a little swing that came in a box.
Made of plastic,
And fake wood.
This swing meant nothing to me.
It didn't talk to me,
Or mean anything in my life.

So one day I broke it down,
Kicking it and punching it until my knuckles bled.
My dad came running out,
A scared look on his tired face.
He knew what had happened.
He knew why I did what I did.
And when I saw him coming towards me,
I fell to the ground,
Defeated.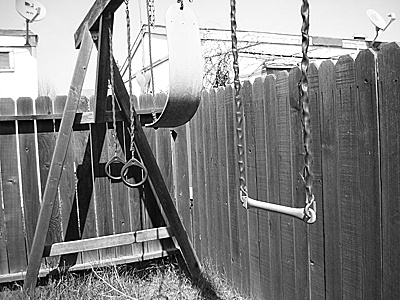 © Brittan S., Chino, CA