Petals
January 23, 2013
Stop.
Rewind.
Little girl no older than nine.
Flower in her hand, hair in her eyes, leaving petals in her wake.
"He loves me, he loves me not," a silly little girl's game.

Now present time, sixteen years old and falling in love, with a boy of eighteen.
He's shown her things she's never seen, how to love and be loved, how to grow up.
But already she's been hurt too many times, and she's still grasping that flower, dropping petals as she goes.
There's blood on her hands from the thorns of a rose.
She clings so tightly but is afraid to reach the end.
The fear of "He loves me not," haunts her, gives her nightmares.
She wakes up in tears, mascara streaks down her face.
Cheeks red and knuckles white from holding on to that flower so tight.
He sees her crying, wipes the tears from her eyes.
Uncurls her fingers to find the flower.
She looks down and sees one petal left.
How has the time gone by so quickly?
He plucks the petal and tosses it over his shoulder.
Kisses her palms and gets down on one knee.

Fast forward now.
Wedding day, a bouquet of roses held by shaking hands.
She pulls one out and lets the petals fall around her feet.
"He loves me,"
And she closes her eyes and repeats it to herself, because this is the only truth she's ever known. The only one she'll ever need.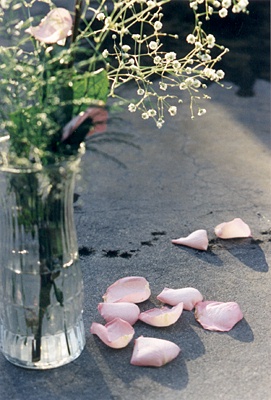 © Kathleen S., Maumee, OH