Dreams
January 27, 2013
A kiss on the forehead
A switch of the light
Head on pillow
Relax.

Minutes pass by
With no realization
I roam on this earth
No more.

Peace then envelops
The darkness encloses
With glee, through the black
I fly.

I soar to a world
Where wild senses reign
with power through fear
coupling courage.

Curiosity guides
and produces these visions
of things ne'er seen in
real life --

Majestic beasts,
People long dead,
Music, eerie;
Unique.

Exploring this world
One step at a time
The eyes solving mysteries
Many

The mind seeing all;
understanding that
which is impossible
Anywhere else.

Nonexistence existing!
Reality's truth!
It's confusing, and yet,
It is life.

I stumble through fear;
I've laughed with the joy
Not felt, when not in
This world.

I start settling in,
Engulfing this place,
When - No! I must go
At once.

I've only just come here
I've seen; felt so little,
Even now, I am swept off
My feet --

So quickly, so subtle
It wasn't my choice.
I start being taken
From here

I grope for a rung!
A handhold -- a grip!
Something to stop
My descent!

There is none, of 'course,
And so down I fall --
Down to where I was
Before.

As I slowly come to,
Forgotten are those--
All of those things that
I've felt!

Now, I'm awake,
But intrigued by one thing...
Why is there
A tear
On my face?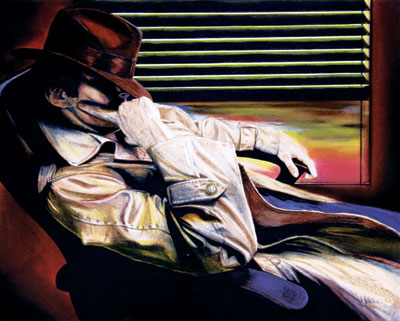 © Mick G., Bellevue, NE