I long for the days
December 11, 2012
I long for the days
When we would ride down to the beach
Listening to its a beautiful day, U2
In our white puffy sweat shirts.

Sand clinging to our toes.
You would lift me up when a wave would come.
We would scream.
Our big puffy sweatshirts
Waving in the breeze.

I remember my first starfish
I wanted to take it home
You told me
It would die hon.
I loved animals,
So I let it go.

I long for the days when we would drive to school.
Disney radio playing in the background.
As I wore my prim collared uniform
I wonder,
If I mentioned it
Would you long for it too?

I long for the days when we would dress up in red white and blue.
I would stand by the door,
Looking as red white and blue took over the kitchen.
We would go down to the cul-de-sac,
And pound the firecrackers to the black cement.
But nighttime would rise,
And the action would begin.
I hated the noise,
But I loved the sight.
I long for the days of excitement and fright.

I long for the days,
When I would wake up,
And enter my pink bathroom.
Stare out the window.
See the big oak tree with the birds singing.

We would play on the hillside.
I would collect shells and berries.
We would build a fairy house,
Hoping fairies would come.
Sticks hanging out of our already filled arms.
If I went back,
I wonder, how many would be left.
Or fairies,
Have you occupied them yet?

I long for the afternoons,
When you would come over to play.
We would run up the hillside
To where the avocado trees lay.
And the vineyards stretched out
We could see the whole town.
From my side of it,
To the mountains,
And the beach behind their peaks.
We would collect the fruit,
And pretend we lived in the wild.
We would build a fort,
Out of the bamboo
With a palm tree as our roof.

We would sit upon the platform,
Staring at the oak tree
That lay above us.
We had a dream
To create a band it seemed.
We would write songs for hours,
Pretend we lived on our own,
That oak tree was our cover.

But longing doesn't stay long.
I know that for sure.
But why is it
5 years and I am still not cured.
No one would understand,
What those days really meant to me.
They were simple,
Now it seems.
I know nothing can come between those days and me.
My family and I.

But why do I feel like I'm in a car.
No beautiful day by U2 anymore
Watching as the road descends into the distance.
And my home disappears with it.
I don't know which one is running away.
Me in this car,
Or the longing of the days.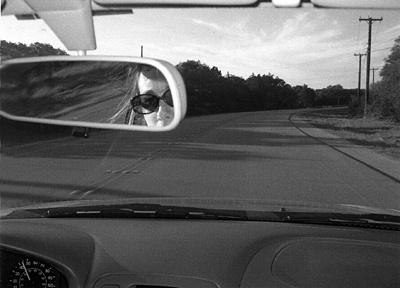 © Roxanne D., San Antonio, TX