Silent Sheets
October 6, 2012
Silence takes many forms, disguising itself as a revenge, dread, fear..

Covering its face under a sheet, deceiving shadows of thoughts, shedding darkness on memories.

Sometimes, silence speaks stronger than 1,000 words.

Sometimes, silence cuts through noise, hushing those whispers, choking the words to seize existing.

Silence takes many forms, disguising itself as a comfort, respect, care..

Unmasking its face by valor, exposing revealed emotion, breathing in its fear to embrace the flames that rage around it.

Sometimes, silence is the weapon that fights tribulation.

Sometimes, silence is the armor that deflects the shouted insults.

So this silence I've been living under, what direction has it been leading me in?

Have I been lead to hold in this mental suffering?

Or have I been letting it go, peeling these lines back one at a time and letting them float away?

Does the noise still bother me, or have I just been muting the world, hiding behind shadows, letting the silence lead me?

Or have I been shedding the cloth that's been stuck between me and the real sound that vibrates underneath myself, quietly ripping the dense fabric that's wrapped around me?

These shadows that have been camouflaging themselves as still frames -things stuck in the past- they still move, still slither under sealed doors. But I wait for them, and I trace them back to their sources, and reseal their cages, locking them behind, just waiting for the next time they'll be set free.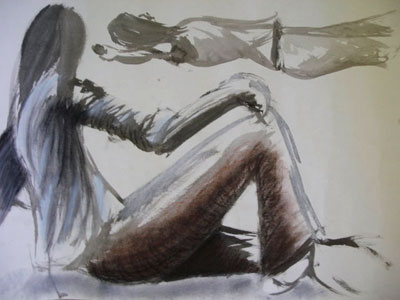 © Carollynn G., Hawthorne, NY