Dear Mama
September 25, 2012
It's getting cold and I'm struggling to find the words
All I ever asked from you was freedom among the birds

This isn't to tell you that I hate you or that you've lost me
But to tell you that I miss you and I'm sorry

Times aren't as easy as I expected them to be
I'm shaking and I'm breaking uncontrollably

A daughter has nothing without a mother's hand
Reaching to pick her up when she can't bear to stand.

A mama isn't much after her daughter has gone
For she's never been without her for this long

My poetic words don't always leave a mark that stays
Just like the daughter of yours who continually strays.

I'm writing to tell you I'm just as lost without you
And I'm finished untying my perfectly tied shoe.

You revealed that you're suffering from Empti-ness
And I want you to know my mind feels nothing less

A golden child that lost her sparkle along the way
Always making the wrong decisions and not knowing what to say.

I'm gluing on the sparkled I lost on my trip
Not beautiful, but liver lining from my toes to my lips.

I'm nervous about the words I have revealed
Stretching my insecurities across an open field.

Dressed as a quarterback you come to save the day
I can fix the things I've broken, I just need your help along the way.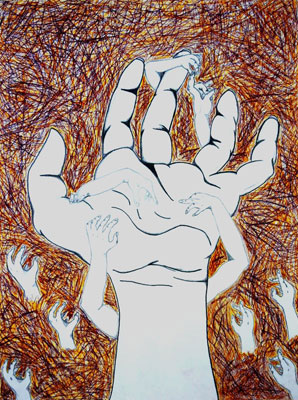 © Ariana R., New Orleans, LA