Daybreak
September 11, 2012
The pitch black waters, crashing onto rocky shores,
spittle popping up from the icy torrents like firecrackers.

Honey spills into the frozen seas, its thick, golden trails slowly dripping and sinking into the black.

Warming and soothing the raging tides, melding steel into copper.

Arise, oh child of heaven, so that you may reach out your gentle embrace.
Banish the shadows that harbored the vile and heinous, that birth demons in its hellish wake.

Smile, and allow the radiant threads of warmth intertwine with the lacings of the cold, the frigid wasteland that belongs to those tortured souls who despair and weep.

Watch over us, let the silent child laugh again, unafraid.
Please give the blind their sight and the deaf their awareness.
Tell the mute that their words should be spoken proudly, without a trace of fear.

Guide those who stumbled drunkenly off their path back to their sober journeys once more.

Save those who fell into the abyss of worries and sorrow,
and fly them back to the sky, soaring majestically once again, on your golden wings.

And from the flames that destroyed in the darkest night,
a daisy will bloom in the smothering ashes.
A phoenix cries out unflinchingly as it speeds into the desolate sky of the unknown.

Let the skeptics dream,
and the faithless pray.
The cruel give an embrace,
and the apathetic a grin.
That the loveless blow a kiss,
and the lifeless raise a bloom.

Shine into the broken hearts
of the twisted and the damned.
Reveal a savior's light, and let no shadow stand.

Cry out, cry out, and rise once more,
the phoenix brave, jump out and soar!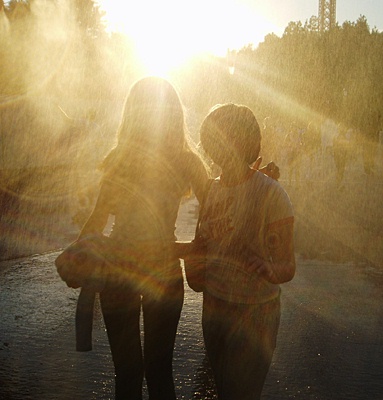 © Rebecca Y., Los Angeles, CA