Hoping I Will Be Fine
August 25, 2012
My feet were strong,
I refused to stumble.
I walked with confidence,
Despite my nervous heart,
Through the long hallway

She led me to the room with heavy doors,
I knew later on I would be sore.
She pushed open the doors,
I walked in my feet still strong.
The walls were white,
Clean and sterile,
Just like everything was supposed to be.

I looked at the operating table,
Without being told I laid down upon it.
I watched them approach me.
They had masks on their faces,
Gloves on their hands,
Tools nearby ready to go.

They were all waiting for me.
I looked at the table with tools.
These tools would enter my body,
Ready to make it better,
Or so they say.

I glanced down at my hand,
It would be the last time seeing it,
In its original shape.
The tools on the table would help,
Help reform and distort my hand.
It wasn't right,
I was born that way and I was okay.
But I was a kid,
Doctors said I needed the surgery.
I was overruled,
But I was the one lying on the table,
Not them.

She approached me with needle in hand.
I give out my arm knowing the procedure.
She placed the syringe in my arm,
I flinched slightly out of nerves.
The cold liquid filled my body,
Soon my eyes began to flutter.

Once more I see her within my gaze,
She looked down at me,
Her eyes sympathetic.
"Don't worry; your surgery will be fine."
I remember hoping she was right,
That when I would awake,
I would be fine.
Then the darkness shut my eyes,
And then began to fix my body.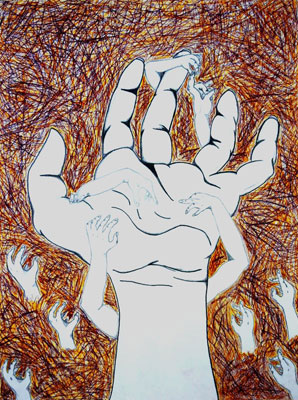 © Ariana R., New Orleans, LA