My World of Words
MAG
August 30, 2012
Words! Words!
God knows I want to write
On every page of every blank book
From morning onto night.
Then jot on the walls
So that everyone can see
What I feel and how I feel it,
I want them to feel me.
Then I want to write
On the surface of every stone.
When rain carries the ink to the soil,
My words will never be gone.
The dead will read them
Then they'll appeal to God,
"Lord, she's no sinner."
"No, just confused and rather odd."
What if my skin was a sheet of my words?
There'd be no need to introduce.
I'd let the strangers read my body,
Leave them free to deduce.
Next, I'd write on the ones that I love,
Leave not a spot of flesh bare.
If I should ever pass without warning,
They'd know how much I once cared.
I'd write on the sleet,
The hail, and the snow,
I'd scribble on the sheets,
The lamp shades, my pillow.
In straightforward language,
In covert cryptic code,
Scribble, flourish, cross out, and dash
Until my brain explodes.
Then, I'd collect the pieces,
Before the thoughts run dry and fast,
Burn them in a fountain pen
And make new words from ash.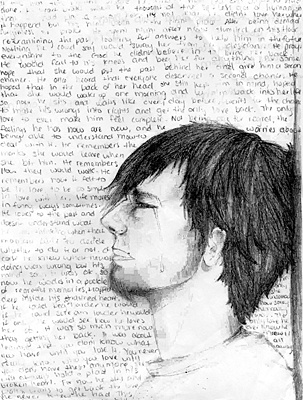 © Annie M., Columbiana, OH