The Lost and Found
August 11, 2012
There's no way I can explain
How thankful I am
for all those times you took me in
& For all those times you healed me from my pain.

You gave me all your hope and
Made it seemed like you really cared
All those times that I told you I was scared.

Im sorry to disappoint and for the trouble I can be.
I've had hard times, as you have seen.
But trust me when I tell you that I tried my best
And don't forget that it was all because of you, my queen.

You used that chunk of faith for your loving friend
And didn't care for the drag that I can be.
It took more than hard work
And polishness
To clean and save my heart from this black sea.

You strengthened its cover with gloss.
You used your pride to fight for me.
You thought that I was worth to be
Just one more graduate from B.G

I felt like giving up but you made it seem
like no one else would fight for me.
To keep me going you stood by my side
with every talk you slowly grew a blossom tree.

You're a sweet pea.
Sugar-free
Natural sweetness
And nothing but part of my family tree
We flew up high in the sky,
And felt nothing more than comfort to an escapee.

To Your Sweet nothings I listened to.
It was easier to follow your whispers
like the role model that you are to me.
When tears made it hard to view,
the brighter you colored the sky.
You gave clearness to my eyes when
They were sun-rayed proof; it let no light shine through
but then I realized
that I was colorblind.
You gave me glasses that colored the world for me
It gave me a different perspective from my window view.
And thanks to you,
I straightened up and was able to stand on one foot
On a thin line that had once ripped
But your hand and my hand tide a knot
It tangled up the roots of friendship and sister
It later expanded and strengthened the ties between you and me.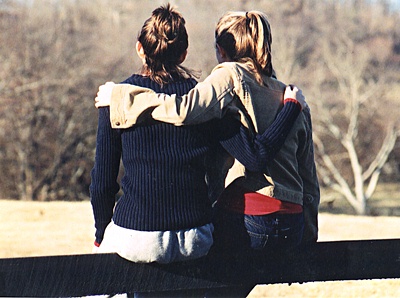 © Jaime M., Wichita Falls, TX