Leaving
May 23, 2012
What to do, with a pretty little butterfly
Raised from a caterpillar, but now asking why.
Helped it when it was a baby, transferred from leaf to leaf
... And helped build up protection in a short week.
But now it's grown, grown too big for you to hold
And inside it feels as if your heart has grown cold.
But yet, you know that your love for it will always last,
Even though it grew up way too fast.
And now, holding it in your hand, you know what's right.
You've done all in your power and might.
And knowing that by holding on too long,
You're only doing your beloved bug wrong.
Now you've done all you can do, can't keep making up lies,
You've got to watch on as your butterfly flies.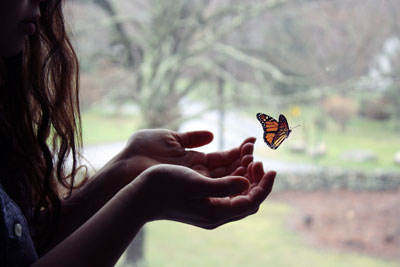 © Sandy H., Woodbridge, CT