You Need To Read This.
June 24, 2012
People fear the world.
They fear the judgment of others
Like a starving man fears the end.
Do not cower from the world;
You are twice as strong as anything
Life tries to knock you down with.
Never let anyone put out the fire in your soul.
Melt hearts of ice with fiery passion.
To achieve true happiness,
You must do that which you love more than anything,
And never settle for a fraction less.
If you should worry about anything,
Worry about thinking too little of yourself.
It is important to love who you are,
First and foremost,
Because then, and only then
Can love seep from your soul into the world,
A faucet that never stops leaking.
Superficiality is useless
And slaughters sweet inner peace.
Take care of yourself,
But do not worry endlessly what someone thinks about your outer shell.
Those who pass judgment so shallowly
Do not appreciate the beauty of the mind,
Only its half-lit corners.
Wander this wonderful world'
Expose your eyes to everything you can.
Realize that people lead lives that are dramatically different from your own,
And simply because their way is different
Does not mean it is wrong.
Accept people exactly as they are.
Come to grips with mortality
So you may not be frightened of death.
Life is bitter and sweet.
Do not live in fear of what may come,
In life or in death.
If you live happily, helpfully, hopefully,
There is no reason to be afraid of anything.
Read and learn and think.
Wonder and question.
Be curious about every little thing.
Do not swallow any detail you hear,
No matter who declares it an infallible truth.
Your mind is as strong as a diamond blade;
Use it and never cease.
Work relentlessly to overcome your fears;
They do nothing but keep you from living.
Attack them with a knife and brute force.
Do not be afraid of existence.
There will always be those who wish to see you drown in your own failure.
They are nothing to you.
Simply because one heartless imbecile calls you a name
Does not mean he has decided your fate.
Some people pass judgment like time,
Quickly and thoughtlessly.
Never let their meaningless words break your beautiful spirit.
And most of all,
Never forget to live.
Do not just survive, thrive-
Be alive.
Appreciate the reckless and the bold.
Taste the sweet spring air,
Feel your lungs freeze in the bitter winter wind,
Become the adrenaline coursing through your yearning veins and
Be free.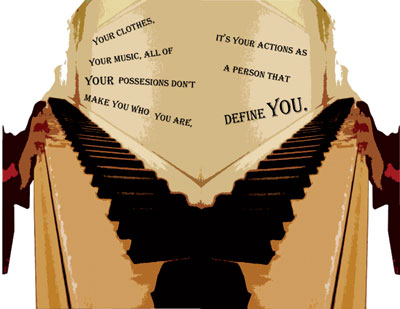 © Brad F., Stewartville, MN