Langue clandestine
June 13, 2012
My grandmother et moi,
We speak together une langue clandestine
Slipping over mots et phrases
Between languages and cultures
Understood by nous deux
Et c'est ca qui est important

-Let me tell you, Saskia,
Maybe we will go samedi soir
On va peut-etre diner avec un homme Saturday night, Silviane m'a dit qu'il aime le rock. I think he plays something himself. I think he plays the batteries.
-Grammatine, you can't say that. That doesn't make sense in English.
-Vraiment?
-The batteries, ils sont des piles, comme pour mettre dans le remote control.
-Ah, bon.
-The drums, tu veux dire.
-Oui. Ah, regarde! Ils sont tellement beau, these sunflower fields.
A little while later…
-That man, he sells flowers that are very expensive.
That man, he is my grocer, he is closed le mercredi parce que ses enfants sortent de l'ecole.

Over lunch,
salade et fromage
café et chocolat,
Ghosts fill the room.
-You realize I'm writing a book
-Ah, bon?
-Yeah. Well, I'm going to write one.
-Well, it'll be good to have all this written down. My friend told me last week that I should stick a tape recorder sous la table.
-Yeah, well I did that.
Later, washing the dishes…
-Tu sais, it's good to talk about all these dead people.
-I know.
Someone needs to remember…
And we laugh ensemble.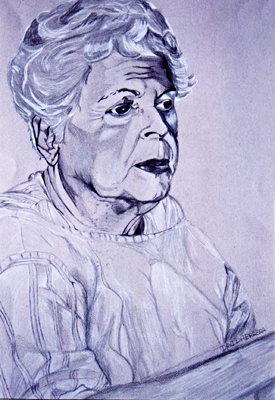 © David H., Kannapolis, NC