Love And We Get Older
June 7, 2012
Our love has been reborn,
docked to port, its motor chokes on the ocean.

I had been skeptical of a man's heartbeat
and the way it rhythmically drums on a woman's thighs;

but with you and I, there is such chemistry,
such a symmetrical love, don't you agree?

Oh, how we whiled away the summer evenings in your uncle's red-bricked cottage;
evenings where we watched the frantic stars and whitewashed sun

eat away at a crimson horizon
while you, brown haired and scrawny, plucked two breast-fed cherries,

from a nearby tree. I recall
the piece of bine which fastened these ripe stones;

and the instant you said it embodied our love
was the same instant God had sneezed,

sending a gust of mucus and saliva at them--
and as we laughed in the reviving breeze

the cherries that were our love broke in two
and rolled into a hostile river--

bruised, alone, forgotten.
But now we are old and our hair is withered

and we stand, craving for the years before.
You come from meeting "the client" across town

and I ask how come your feet are so badly cut up
and you say its from the beer bottles and cigarettes

your "client" threw at you through indignation;
but when I ask about the smile on your face

you simply nod and fetch supper--
"the client" has never been to our house.

You sleep inside our love chamber, alone?
while I stand in the kitchen with a frying pan

and butter on that pan
and flies swarming around the butter on that pan;

the refrigerator plays a tune from yesterday's broken record
and the cream and butter and juice all sing along;

meanwhile, the dishes swirl down the faucet in a bubbly cloud--
and I jump in with them; luckily, I blend

so magnificently with my fellow people;
chipped edges, a dull face, and the stains of yesterday's sadness;

we keep swirling down and down and down in this cloud of servitude--
I will never stop…unless my husband tells me to.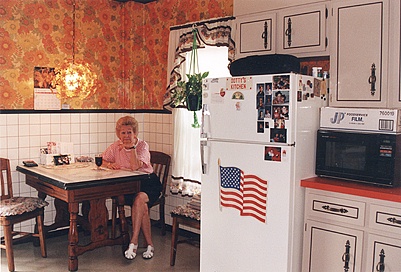 © Sophie K., Cambridge, MA