First Love
May 20, 2012
This is how I feel: like the Earth just flipped and spinned and turned inside out, like I never realized how beautifully risky sunrises really are, or how perfect the air feels after a thunderstorm, or how it very possible it is for each cell in my body to feel alive in just one moment.

This is how I feel: like this is the first time it is worth it to feel anything, like I could study just the beauty in your eyelashes for an eternity before moving my eyes to the perfect flaws of your complexion, or the smooth outline of your nose, or the strong curves of your jaw.

This is how I feel: like there is nothing better than the moment we are currently occupying at this very breath, so please don't worry about the natural rhythms of the ocean that will pull us apart as quickly and easily as pebbles tossed by the waves on the shoreline. Even though on the inside its going to be anything but easy, more like leaves slowly dying into the colors of fall and falling slowly, steady in the cool breeze before being covered by the first frosts of winter.

This is what I know: Right now, in this moment, we are still green in the trees and sandy on summer's beach, so keep breathing while my exhales fill your inhales and don't let your fingers slip from the inbetweens of mine. In this moment, we make the world and I have never felt so alive.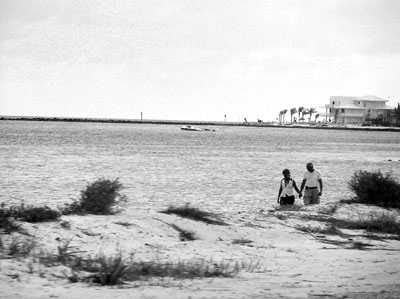 © Edgard B., Coral Springs, FL