A Golden Stairway
April 29, 2012
The darkness wraps around me in its constricting blanket.

He is gone.
He will never come back.

The pictures don't help.
They only bring back memories
That hit my mangled heart hard.

The presents don't help.
They only remind me that he used to give me things.
Things that mattered and were picked by his heart.

But he is gone.

Dust in the wind that has blown to an alternate earth
Where everyone must be happy.
Where no one weeps during the solitary nights
Of grieve.
Where smiles are like rivers,
And there is no such thing as drought.
Where love is more abundant
Than smoke in the air.
And happiness emits from all
Like summer sunshine.

The blanket chokes me, though.
I don't feel the warmth of a family;
I breathe out frozen ice.

But then I see "his" empty shell lumbering toward me.
And I wonder if I can get to that alternate earth,
Where it is a good kind of warm,
And where he must live on freely.

I don't care that "he" doesn't understand what I want;
It's not really him.

"He" isn't supposed to yell.
I'm not supposed to scream.
And I want real warmth.
I want real love.

The only way to walk that golden stairway,
Where he keeps himself hidden at the top,
Is to leave this never ending path.

"He" tells me not to.

But I do.

And I take gossamer footsteps on a golden stairway
With nothing around but the soft fluff of a cloud.
And I already feel sunlight warm as a campfire.
It surrounds my mangled heart with love;
The flames of the fire seal up those almost everlasting wounds.

And then there he is.
The real him.
Standing there,

My dad.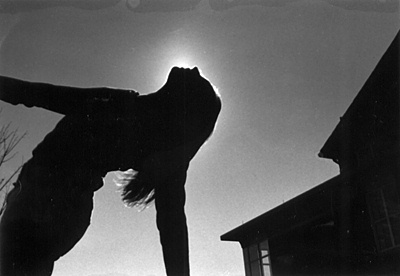 © Alexandra B., Marblehead, MA