killing me
April 4, 2012
Hi, hello, look:
you know me?
will you?
I've noticed everything
face, hands
nose (makes me smile)
smile.
Your feet distracted me
coming down the stairs once
I stopped singing right then because
my heart was migrating into my throat at an alarming speed.
I knew they were yours before I knew they were feet.
My eyes stop blinking and my
lungs stop breathing and my
hands clutch at anything like I'm going to
fall down.
I can't meet your eyes and
it's a miracle my tongue will move to
answer when you speak.
It always seems it would be too busy
keeping screams shouts (joy)
from escaping.
I guess I should count myself lucky.
When you pass me I feel you and
your energy crackling with mine-
either we're polar opposites literally or
I'm drawn to you.
Sometimes afraid to find out.
What I'm NOT
afraid
to discover
is the way your skin feels and
mouth moves and
hands work,
why your back curves so
gently, shoulders slope
and what sort of dreams you have.
Hello, hey,
really,
be honest when you see me
can you hear me?
the deep inside
need to try
you on.
I gotta know.
You're killing me.
Did you know that?

Killing me.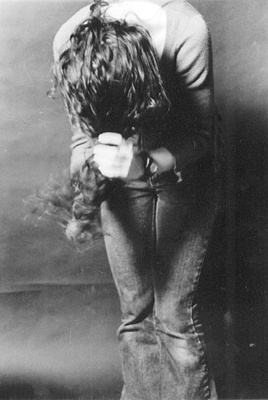 © Cerys W., Marblehead, MA