Stepping Stool
February 18, 2012
She marched along the sidewalk
with a fierce determination
her face contorted
in mock seriousness.

Obsessively she walked,
avoiding the cracks at all costs -
her mother's back
was at stake.

Along she trotted, each footstep
a step closer to her future,
her destiny.

Just one more block
the sidewalk lengthens
it becomes impossibly...
short.

There's the door. She reaches, but
is too small to reach
the handle.

The old man laughs at her
he beckons her inside
but offers no
help.

Pouting, she turns around
marching dutifully back
to her house

For a stepping stool.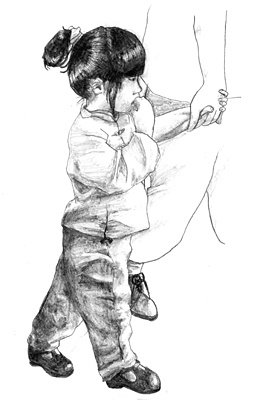 © Laura K., Kendall Park, NJ